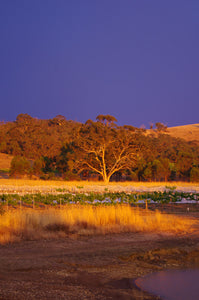 WINERY & VINEYARDS
The Dogrock winery is nestled above the small township of Crowlands on the Western side of Victoria's Pyrenees mountain range. Surrounded by rocky ridges on three sides, the vineyards lie in a horse shoe-shaped valley, each with their own distinct microclimate.
This specific site, selected for its potential for premium winemaking and self-sustainability, is idyllic for producing the delicately complex wines in the Dogrock range. This harmonious environment is one that has the ability to produce exceptional quality wines – naturally.
Within the carefully-planned vineyards each grape variety is planted strategically – Riesling and Chardonnay are nestled behind the ridge on southern facing slopes where they are protected from the summer's hot north winds, keeping the vines cool – the grapes thus retaining their delicate and fresh fruit flavours. New plantings of Arinto and Azal are also on South slopes and will soon join the white wine portfolio.
In contrast, red varietals – Shiraz, Grenache and Tempranillo – are planted on the north facing slopes to maximise sunlight exposure. High sunshine hours and dry, warm summers leading into harvest are perfect for the famous Pyrenees Shiraz, and the ancient soils at DogRock are ideally suited to the production of complex and savoury reds in this cool to moderate climate. In fact, this climate is very similar to the Rioja region of Spain and the Southern Rhone Valley of France, which produce some of the finest wines in the world.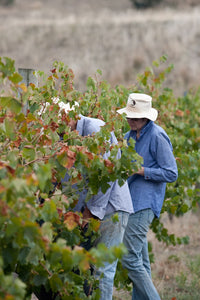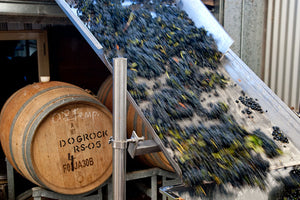 PHILOSOPHY
Aside from the aim to create sustainably produced wines with limited intervention, Dogrock has absolute quality expectations and a reverence for European wine styles. Dogrock wines are elegant, balanced and flavourful – contrasting with high-alcohol, overripe wines – and yet remain innovative and interesting.
During the winemaking process, each type of fruit is treated in a different manner, taking the peculiarities of each season into consideration. Oak treatment and maturation length is also individual to each wine. Wines are filtered to ensure they are free from spoilage, while intervention is minimal after fermentation begins. At Dogrock, it is a solid belief that good wines evolve without winemakers pushing them in any one direction year after year.
Dogrock wines reflect their place of origin. Riesling, as an example, is somewhat different from the classic Australian version of this varietal. First hand harvested, then skin contact, basket pressed and lees contact all add extra palate weight and texture. Combined with a complex flavour, the intent of this wine is ultimate drinkability. The sparkling red blend is similarly unique. Often utilising Tempranillo, Shiraz and Grenache in various percentages, this is the only sparkling red wine with this blend in the world as far as Allen and Andrea are aware.
Dogrock is forging a new style that revolves around making wines that are softer, with more textural palate weight and that will age and drink well for decades. Ultimately, the aim of Dogrock is to produce wines second to none in quality with high drinkability and which, most importantly, taste good.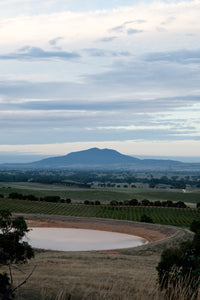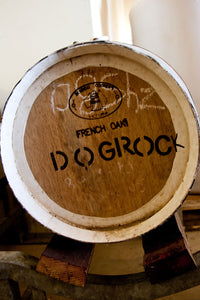 BIO
In 1998 winemakers Allen and Andrea Hart purchased 58 hectares of partially-wooded land behind the township of Crowlands in the Pyrenees Wine region of Central-Western Victoria.
During these first years at Dogrock, vines were planted and a house was built high on the south-eastern ridge, overlooking the southern end of the Pyrenees ranges. Surrounded by earth on three sides, this naturally-insulated structure is run entirely on solar power. Rain water caught on the roof is stored in a tank further up the hill before being gravity fed back to the house and solar heated.
Along with the establishment of the vineyards, dams were built at varying levels on the slopes, the water from which is used for irrigation. A solar pump and gravity fed are often used for irrigation when conditions allow.
Up on the northern rise, the winery was built with similar intentions. Recessed into the hillside in a cavernous manner, the winery also has natural insulation, keeping cool throughout summer and stable in winter. This winery building, from its vantage point 345m above sea level, overlooks Mount Langhi Ghiran and Mount Cole with sensational panoramic views.
The inspiration for the Dogrock name comes from several sources. A property just south of the vineyard, neighbouring the farm where Allen's mother grew up, was once called Dogrock. A book about a small country town in NSW also shares the same name, while 'Dogrock' is now solely owned by Allen and Andrea.
Prior to establishment of the property at Crowlands, both Allen and Andrea worked extensively in the Australian wine industry as well as travelling to New Zealand, Rioja, the Rhone Valley, Napa, and Bordeaux. Allen also worked at the famous Chapoutier winery in Hermitage during the 2003 vintage. Allen and Andrea are both graduates of the University of Adelaide, Australia, and hold honours degrees in Oenology and Viticulture respectively.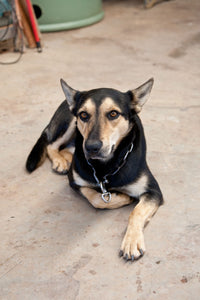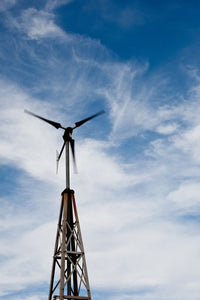 ECO
For Allen and Andrea, environmental considerations are of paramount importance. Every element of the property is carefully positioned with this in mind – reflected most obviously in the construction of the winery and home, along with the complete utilisation of renewable energy sources (primarily solar power). In the vineyards, both irrigation and sprays are used minimally and to seasonal conditions, not as a routine. This minimises the use of spraying in seasons of low disease pressure.
In addition, most of our wines are suitable for Vegans and are labelled accordingly.
However, organic status is not something on the agenda for Dogrock, preferring to reserve the ability to combat disease in a challenging season. Beneath the vines, natural grasses are allowed to grow and are mown when necessary. This biodiversity helps to control disease and pests. More recently, the use of mulch has been introduced to both further improve soil structure and conserve water use.
All vineyard operations, including harvesting and mulch spreading, are done by hand. Surrounding the vineyards, the timbered hillsides are invaluable – trees help to counterbalance prior environmental damage both within the property and on a larger scale. These unadulterated environments provide shelter for the vineyards and in the absence of grazing, indigenous plant species have been allowed to flourish. In addition to the already existing woodland, 7000 trees have been planted, rejuvenating the hillsides and impeding erosion.
At Dogrock, eco practices reflect the philosophy of Allen and Andrea's winemaking – using as little intervention as possible.